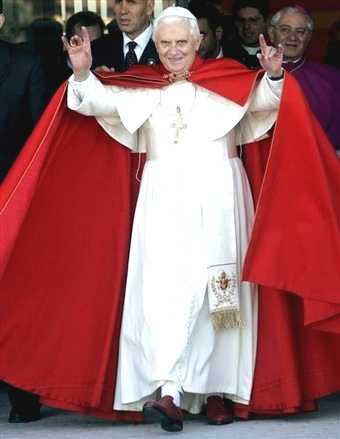 Pope Benedict doing the devil's horns…this is a deception!
You may have seen this picture used and reused across the internet where it looks like Pope Benedict is giving the sign of the devil's horns.  But a closer look shows a deception!
f you look closely at his left hand, you will see a trace of a black under garment just behind his wrist but on his right hand it does not show.
By enlarging the image, you can quickly see the difference in pixelation of and around the hand.  Clearly, the hand has been altered, probably added from another image.
This is the image that gives it away, the clear "blurring of the wrist area  and all around the hand. Also notice the dark grey/black areas on either side of the hand, clear manipulation of this image.
The problem is that people do not know the difference between the sign language form of "I Love You" and the Devil's Horns sign. Below are the two, notice that the distinct difference is the thumb holding down one or two of the middle fingers.